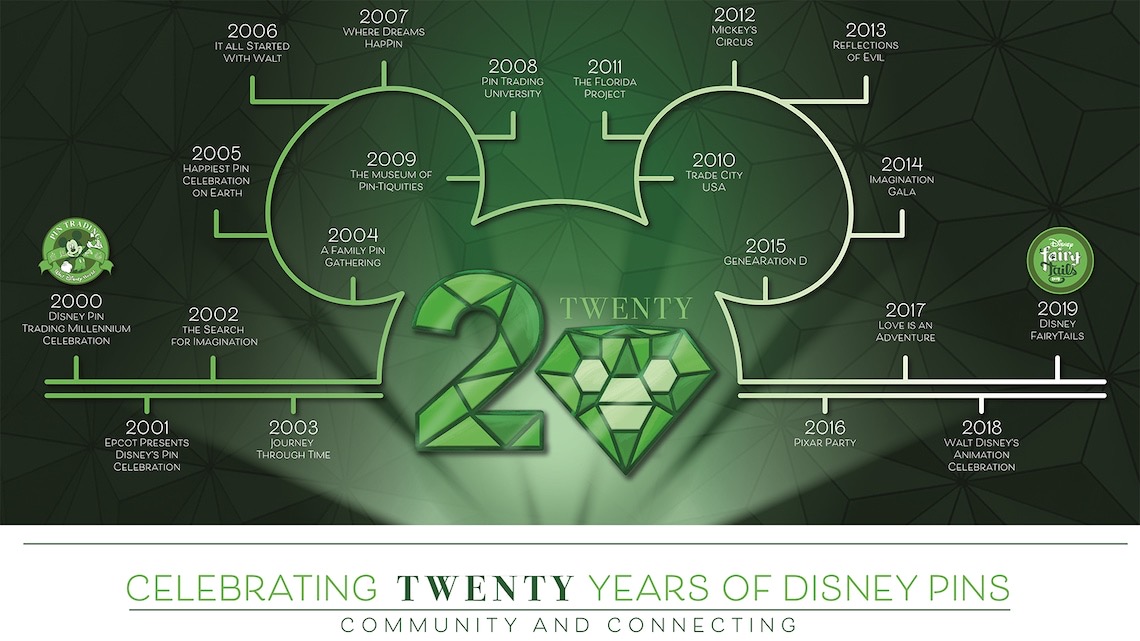 For the first time, Disney's annual pin trading event is going virtual. The event was originally scheduled for August 22-23, 2020 at World Showcase in EPCOT. This event celebrates twenty years of Disney pins and likely would have been a large celebration. Disney promises guests will still have the opportunity to purchase new pins created for the event and connect with other pin traders.
Disney's update from their merchandise events page is below.
UPDATE: During these unprecedented times, we continue to follow guidance from government and health officials for responsibly reopening and operating our theme parks and resorts and will be making adjustments to our annual pin trading event.

The 2020 Pin Trading Event, which was originally scheduled to be held in-person at World Showplace at Epcot on August 22-23, 2020, will instead be conducted as a virtual online event on a date and time to be announced in the near future. Guests will still have the chance to discover and purchase from the unique collection of pins created for this event and virtually connect with fellow pin fans to remember and reminisce on 20 years of pin trading.

For the past 20 years, we have gathered to celebrate the magic of pin trading. We've journeyed through time, shared Walt's dream, gathered for a decade of memories, joined the circus, came face-to-face with Disney Villains, let our imaginations soar, had adventures like none other and now here we are at a new milestone. Although this event will take place virtually for the first time, we invite you to remember and reminisce, connect with old friends and make new ones in the community—the family we've built together, no matter where you are.

Please continue to check back here for details about the 2020 Virtual Pin Trading Event.

Subject to change or cancellation without notice.
The pin trading event going virtual will open it up to many guests who might not have been able to attend an in-person event before. Hopefully the virtual event will run smoothly and we can't wait to see the new pins!